Once Upon a Business..
Over a hundred and fifty years ago, John Daynes opened a little music and jewelry store just south of First South on Main Street. John's great-grandson represents the fourth generation of Daynes in the Salt Lake retail business.
Jean Bucher
A portion of the article from Utah Holiday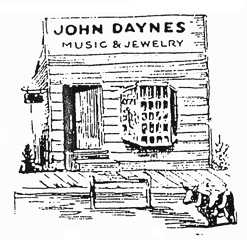 It is 8:45 on a snowy Salt Lake morning in 1989. Gerald "Skip" Daynes points to the spot where a newly delivered piano should be placed, commenting to an employee that it is "going out today." The new arrival is easily overlooked; a gleaming array of ebony and ivory can be seen to stretch to the back wall of the showroom. Yet, even this magnificent display is overshadowed by two bulging scrapbooks which sit upon Daynes' desk—books which tell the story of a business older than Utah itself.
There are a few well-known businesses in Utah that were established during the second half of the 19th century—some before the state itself was really established. And these few somehow, through various combinations of hard work, foresight, keen business acumen, and, sometimes, luck, have not only survived the years, but are thriving concerns.
The goods and services these businesses offer are diverse—from music to shoes, from costumes to furniture—almost as diverse as the owners themselves.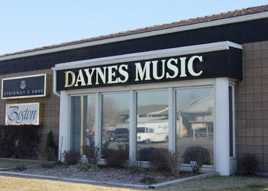 Skip Daynes, the fourth generation owner of Daynes Music, is understandably proud of his heritage. He flips open the company scrapbook to a photo of John Daynes, his great-grandfather, a watch maker from Norwich, England. A convert to the Church of Jesus Christ of Latter-day Saints, the first Daynes made his way to New York aboard the John T. Boyd, a sailing vessel which landed in 1862. From New York, accompanied by his wife and two children, John crossed the plains and arrived in Salt Lake Valley later that same year. A celebration in honor of the new wave of pioneers was held where the City and County buildings now stands, and, in the course of the festivities, John's son, Joseph was spotted by Brigham Young as he played upon a small harmonium. Instantly dubbed by President Young as "our organist for the Tabernacle organ," Joseph was sent East to be prepared by the great masters. And indeed, when the organ was installed in the Tabernacle, it was Joseph who took his place before it. He was 16.
"Meanwhile," Skip Daynes explains, "John Daynes had opened a little music and jewelry store just south of First South on Main Street. He became known as 'Brigham Young's watchmaker.' He ran the store alone, and following the doctrine of polygamy, married again. But what was funny about it was that he married his son Joseph's best girl-friend, Rebecca Bushby. From that marriage came my grandfather, Royal Daynes, and his brother Fred." When the time came for one of the brothers to enter the music business, Fred was on a mission. Fred's announcement that he would "take over the store" upon his return struck a truly dissonant chord with his brother, and Fred ended up in another building with the jewelry end of the business.
Skip goes on to talk about his father Gerald's involvement in a business which by then sold sheet music, radios, televisions, "everything relating to music." He notes that many of these items (victrolas, record players, black-and-white as well as color televisions) were the first of their kind sold in Salt Lake. "In my generation," he adds, "we have had to specialize."
Through the years, Daynes Music has had its share of struggles, but some comical episodes as well. Take the time a 2,500 pound Steinway Grand came "roaring out of the Tabernacle and onto the sidewalk" during its delivery for a Rubenstein performance. Perhaps the most memorable, though not so comical, event involved a drunk who failed to notice Daynes' plate glass window and effectively impaled himself with a piece of glass as he burst through it, finally coming to a rest upon a Louis XV grand piano displayed on a rotating platform.
It is nearly 10:00 am and Daynes Music prepares to open its doors to the public. Skip begins answering the busy phone as well as responding to a few last queries. "I decided I would try to help my dad," he remarks, when asked about his own involvement. "But I really wanted to stay on with my uncle in the ranching business. Everyone knows I would have enjoyed that much more, but I've learned to be good at this."
The man who would be a rancher saunters to the back of the store. Here he illuminates an alcove wherein sits the harmonium which so delighted Brigham Young back in 1862. It is at once clear that the pride, loyalty, and determination which has seen to one of Utah's oldest business' survival, has in no way escaped its fourth generation owner.