Trailblazers in Utah Business
This article is about one of the trailblazing businesses in Utah, Daynes Music Company.
Cover Story – Utah Business – April 2002
By William Slaughter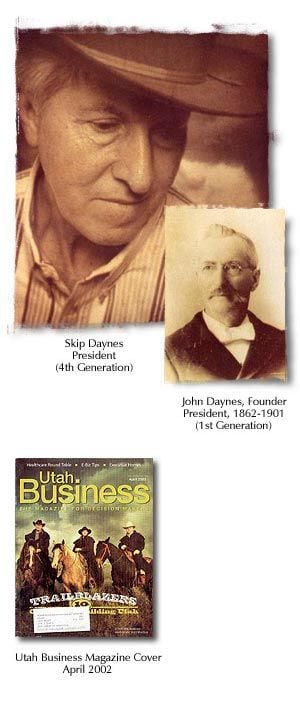 In a very real way, the founding of Daynes Music is a peek at frontier efforts to build a full, rounded life. The pioneers created their own entertainment, whether it was plays, games, singing or bands. When British watchmaker John Daynes immigrated to the Salt Lake Valley in 1862, he immediately opened a music and jewelry store to satisfy the considerable musical appetite of the populace. In 1873, Daynes convinced Steinway to ship a piano to Salt Lake via San Francisco -no small task. Daynes Music has been selling Steinways ever since.
Skip Daynes, the company's fourth-generation owner, confirms Daynes Music "is the second-oldest music store in the United States but the oldest family owned Steinway dealership."
One hundred-forty years in the business has been anything but smooth for the Daynes company. John's son, Royal, aggressively expanded the business, only to see his efforts crumble during the Depression. Fortunately, the third-generation owner, Gerald, was able to slowly rebuild the business. Skip, a ranch-worker for 20 years prior to joining the business, has continued Daynes' success, which as required a lot of creativity and hard work. "A successful owner is willing to participate on every level of his business."
Community service is a Daynes Music tradition. In 1940, Royal Daynes helped establish what is now the Utah Symphony. Gerald was instrumental in establishing Ballet West (originally Utah Civic Ballet), providing space in his music store for rehearsal and ticket sales. Today, Skip supports the Utah Opera Company, provides instruments and financial support to the Grand Teton Musical Festival, and provided Steinways for the Olympics.
Although Daynes used to sell a variety of instruments, it now devotes itself solely to piano sales with customers throughout Utah, Nevada, Wyoming and Idaho. "We appreciate every customer and we let them know it with courtesy and service," Skip Daynes concludes.