A Firm Family Firm
Daynes Music is the oldest family-owned company in Utah.
By Gregory P. Kratz
Deseret News Associate Business Editor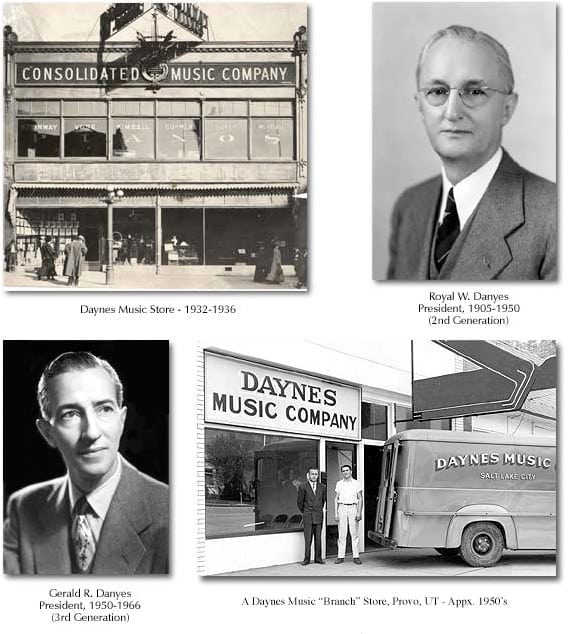 Midvale, UT – For over 150 years, a single music company, Daynes Music Company, has served as a kind of cultural glue for Utah families.
And throughout that period, the Daynes family has provided the instruments to draw people together and bind them close.
"Our company has always been involved in bringing music to Utah," said Gerald "Skip" Daynes, fourth-generation owner of Daynes Music. "In the early days, it was music for families … We have known all these years that peace and tranquility and togetherness come from having music in the home."
That knowledge still drives Skip to keep the family business going, even as Utahns spend less time playing the piano and more time tapping the computer keyboards.
The store he bought from his dad in 1967 traces its roots to the business John Daynes founded in a log building in downtown Salt Lake City in 1862.
That makes Daynes Music, 6935 S. State, the oldest continuously operated family business in Utah, according to a recent study by the Institute for Family Enterprise at Bryant College in Smithfield R.I.
The study singled out businesses that have been in the control of a single family since inception and are located in the state where they originated.
Some of the long-standing companies are household names, like the Haas family's Levi Strauss company, founded in 1853 in California. Or the Stroh Brewing Co., founded in 1850 in Michigan.
Some go back more than three centuries, like the Tuttle Market Gardens, founded in 1640, by the Tuttle family, in New Hampshire.
And then there are the "newer" arrivals, like Daynes Music
John Daynes led the company from its founding until 1901. In 1873, he started selling Steinway & Sons pianos. The store is now the oldest Steinway dealership in the United States.
In 1902, John Daynes handed over the reins to Royal W. Daynes. Royal's love of music led him to help fund the Salt Lake Philharmonic, the forerunner of today's Utah Symphony.
When Royal's son, Gerald R. Daynes bought the business in 1950, Daynes housed the offices and scenery of the Utah Civic Ballet (Ballet West).
"We had a real strong hand in helping the ballet succeed," Skip said. "At one point, Daynes stores were all over Utah." Gerald R. Daynes retired at 60.
"However, when I bought the business from my father, it was $97,000 in the red," according to Skip. "The world of music was changing. People were more inclined to buy home entertainment systems than to buy a piano and make music themselves. But despite the trends, I didn't want to see our business go bankrupt."
Skip Daynes followed generations that went before him, using his store premises to house the Utah Opera. Today, he well is known for supporting the Gina Bachauer International Piano Competition, as well as myriad music programs at the University of Utah; and now, the free "Pops" concerts.
Skip Daynes also brought success back to the family business.
"It is not the kind of business that one makes a ton of money at," he said. "It took years just to get to the point where I could even take a day off."
"Fact is, not everybody understands the importance of the piano as the 'key' to an understanding of music, yet it seems that people would rather spend their money on things that don't last rather than to buy a piano and help their kids expand their minds through music."
But even Skip Daynes was not totally sold on the music business as boy. He preferred to work at his uncle's ranch, the huge Jeremy Ranch that encompassed much of the land adjacent to Park City (now sold and parceled-off to developers). "I wanted to be cool," he said, "and I only worked at the family store during the winter."
But being a ranch hand did teach Skip Daynes how to work and gave him a sense of responsibility, he said. That, and a management degree from the University of Utah, plus a desire to encourage the development of musical talent in the state's families drove him to buy the store from his father, despite its dire financial straits.
"We've been fortunate to be in Utah," he said. "Utahns sacrifice for their families, in most cases. They sacrifice to help their children find success … Even during the (Great) Depression, music didn't go away (here). In many ways, it's an easy business, because Utahns love great musical traditions.
Skip Daynes did not have to push the store through a Depression, as his grandfather did. But over the years, he has moved the store, opened and closed new stores and franchises and survived through tough financial times.
He said they share his desire to improve music education in Utah's schools. And to make sure the family business keeps their interest, Skip Daynes said, he has tried to make it worth something.
"One day, everything may go south, who knows? But if you hang in there and have patience, there will be good things that will come, too …," Skip Daynes said.
"If people are in the business simply to make money, they cannot continue a family business. They have to be oriented around service to the community."